Buc-ee's Explores a New Location on Indrio Road, Fort Pierce, FL
Posted by Justin Harrison on Tuesday, August 22, 2023 at 1:52:28 PM
By Justin Harrison / August 22, 2023
Comment
Those who've ventured through the Daytona Beach and St. Augustine sections of Interstate 95 might already be familiar with the allure of Buc-ee's. This expansive convenience hub offers a plethora of food choices, from fudge and jerky to a myriad of other delectable snacks.
Recent documents hint at St. Lucie County, especially the tract southeast of I-95 and Indrio Road, as a potential spot for a Treasure Coast Buc-ee's outpost. This speculation stems from public records that have recently surfaced.
Within the sprawling confines of these travel centers, visitors can discover the "Texas Roundup" section, a haven for freshly prepared foods like brisket, sausages, turkey, and more. Additionally, Buc-ee's is celebrated for its kolaches, a culinary gem from its Texan roots.
A pre-application meeting on July 27 saw the county mulling over the idea of a "travel center/fueling station" covering roughly 33 acres at the speculated site. Although Buc-ee's wasn't directly named, Benjamin Balcer, the head of the county Planning and Development Services Department, insinuated its potential involvement.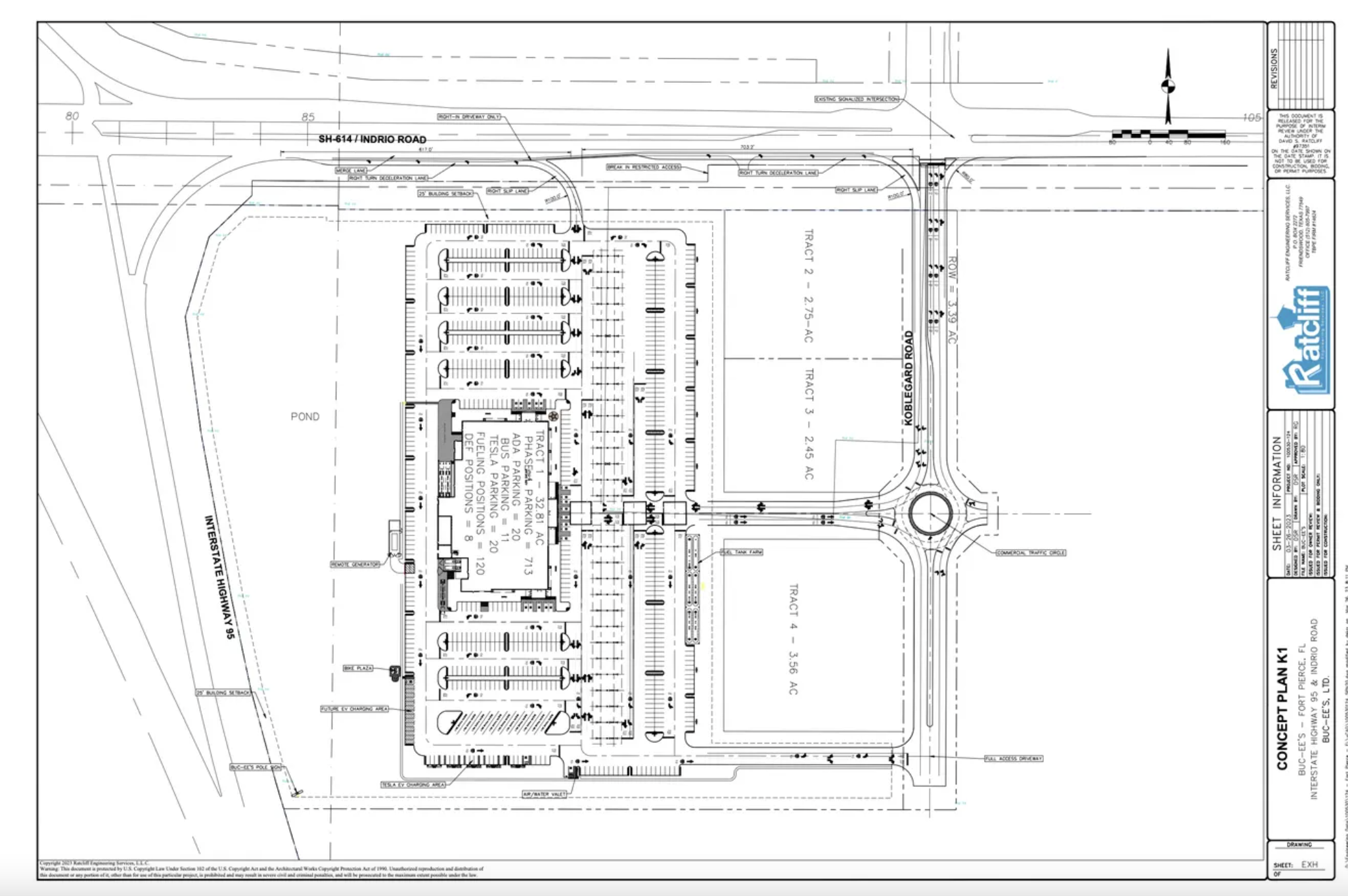 Picture Courtesy of Saint Lucie County and TCPalm
While Buc-ee's representatives have kept their cards close to their chest, a conceptual plan titled "Buc-ee's — Fort Pierce, FL" has been unearthed, adding weight to the rumors.
To give some perspective, the grandest Buc-ee's sprawls over 74,000 square feet. Yet, an upcoming branch in Ocala, Florida, is poised to overshadow this with a staggering 80,000 square feet.
Regarding the Fort Pierce prospect, if an official application is indeed tabled to St. Lucie County, it will be subjected to multiple review phases, encompassing public hearings before the Planning and Zoning Commission and the County Commission.
Buc-ee's, a privately-held entity, has etched its mark with its impeccable facilities, memorable beaver emblem, extensive food assortment, and an array of gas pumps. Their outlets also proffer an assortment of clothing and gift items. For the gastronomically inclined, they have clearly defined breakfast and lunch hours.
Balcer has indicated that the county staff has shared recommendations with the project's representatives. The incorporation of these suggestions into the initial plan is still up in the air, given the absence of any follow-up post the pre-application discussion.
The potential site adjacent to I-95 is deemed a prime piece of real estate, particularly due to its current sparse development, as highlighted by Balcer.
In wrapping up, as Buc-ee's charts its growth trajectory, Fort Pierce could very well be on its radar. For more insights on this and other local developments, rely on Harrison Real Estate and Realtreasurecoast.com. For a detailed account of the original story, visit TCPalm.